Report on the Indo-Pacific Fish Conference: Tahiti, French Polynesia
Adam Gouraguine
University of Essex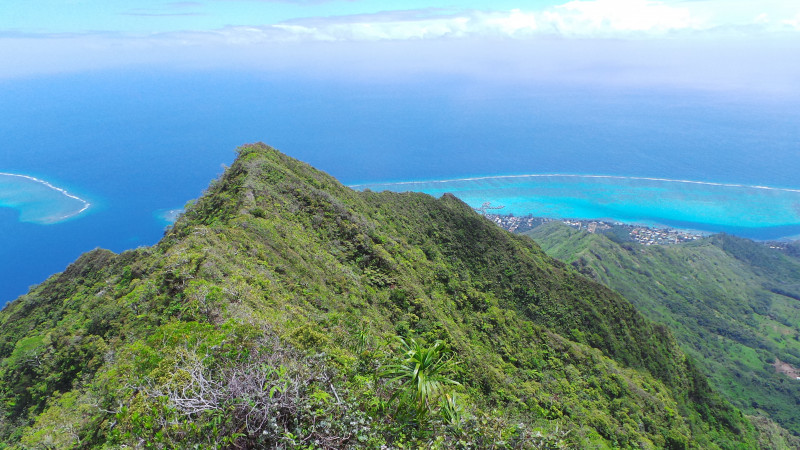 Photo caption: A privilege of enjoying the amazing views made possible by the conference location.

I delivered my oral presentation, entitled "The effect of the long-term coral cover decline on the reef fish community in the South East Sulawesi, Indonesia" on the first day of the conference in the "Long Term Monitoring in Indo-Pacific Fishes" session. The presentation included a summary of the trends observed for the coral and fish community over the course of the 11 year long monitoring period, with the discussion focussing on the possible reasons for the declines in coral cover and consequent response of the associated fish community. Lastly, given the ecological strength of the data from the study, a number of arguments were given in favour of the future use of the long-term reef monitoring programs alike. The presentation was based on the research from the first chapter of my thesis. I was fortunate in that the theatre was full during the session in which I presented, despite a number of other parallel sessions run elsewhere across the conference venue. As a result, my presentation was attended by a number of highly esteemed academics, in addition to many other young researches. The talk was very well received and resulted in interesting discussions and ample scientific input offered to me immediately following the talk, as well as later, over the course of the entire conference.

It was the 3rd time I attended and presented at an international scientific conference, however Indo-Pacific Fish Conference was by far the best, in terms of the quality and scope of the science presented, number of experts present and networking possibilities (and conference location, obviously!). Consequently, the financial aid received by the Challenger Society enabled be to showcase my results to the best possible audience, subsequently meet internationally recognised scientists and other PhD students, discuss my research, as well as learn about past, present and future research conducted by them. By attending this conference, I have established a number of potential future collaborations, which at the final stage of my PhD I am in, are paramount in order to continue the scientific career.


Profile:

I am a final year PhD student at the School of Biological Sciences, University of Essex, with the scientific interest in the interaction between habitat and the associated fish communities. My PhD research ranges from looking at the effect of the long-term changes in habitat structure on fish, to fine scale fish habitat use and redundancy or complementarity in niche partitioning, as well as fish habitat selection and avoidance using olfaction. The research is both, field and laboratory based, and is conducted in a number of tropical and temperate marine habitats worldwide.
Latest News
COVID-19 Impact Survey
NOCA has announced a survey into the impacts of COVID-19 on the UK Marine Science Community
---
NOC - Net Zero Oceanographic Capability Project
NOC announces an ambitious scoping project....
---
Challenger Society 2020 Conference
Conference Postponed until Sept 2021 due to Covid-19 outbreak.
Challenger Society 2020 Conference
at SAMS , Oban


6th-10th September, 2021
Registration, and Abstract submission is available on the conference website at https://challenger2020.co.uk

---