Ocean Optics conference 2014, Portland, Maine, USA
Katharina Lefering
University of Strathclyde, Glasgow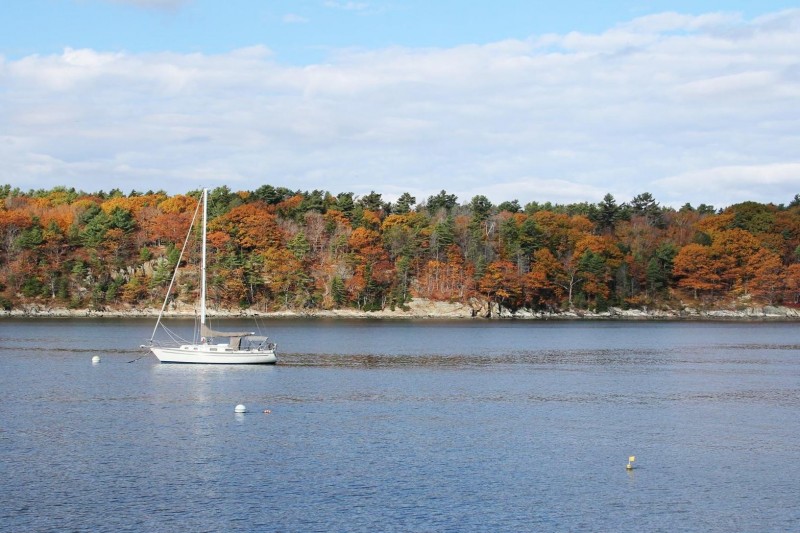 Ocean Optics conference 2014, Portland, Maine, USA
In 2014, the Ocean Optics conference celebrated its 50th anniversary in Portland, Maine, USA in October 2014 and for the first time, I would get the chance to present my research in front of the entire international community. It was a great, though nerve-wrecking opportunity as the community is known for its very honest and critical feedback. Ocean Optics is a special conference because the focus is put on poster sessions and networking, while the absence of parallel sessions gives everybody the chance to listen to every talk. This supports the exchange of new ideas and maximises progress and the development of the field. Therefore I did not only listen to talks of some of the greatest names in the field but also found that it was easy to approach people and discuss my work with them.

I got great feedback and a lot of support and all the inspiring talks and discussions motivated me to go back to Glasgow and work hard for the next couple of years of my project. I would like to thank the Challenger society for supporting my attendance at the Ocean Optics XXII Conference. It was a truly formative experience for me and will have a great impact on my PhD and my development as a marine researcher.

Profile
Katharina Lefering is a 2nd year PhD student in optical oceanography at the University of Strathclyde, Glasgow. With a background in Maritime Technology, she is now working on the development of methods and optical sensors for accurate determination of absorption spectra of natural waters. She presented her PhD work on modelling under water light fields as a measure for the quality of in-situ measurements at the conference in Portland.
Latest News
Cancellation of 2020/21 Challenger Conference
Sadly, the postponed 2020 Challenger Conference to be hosted at SAMs from 6th September 2021 has also been cancelled.
---
New Seagoing Bursary for Students and Early Career Scientists
NOC has received funding from West P&I to deliver a seagoing bursary to enable students and early career scientists, including from developing countries, to experience sea-going science.
---
Net Zero Oceanographic Capability (NZOC) Workshop: Future Research Platforms as Data Hubs in a Connected World
Net Zero Oceanographic Capability (NZOC) Workshop: Future Research Platforms as Data Hubs in a Connected World
Thursday 22nd April 2021
---