Carna Research Station, County Galway
Siobhan Vye
School of Biological Sciences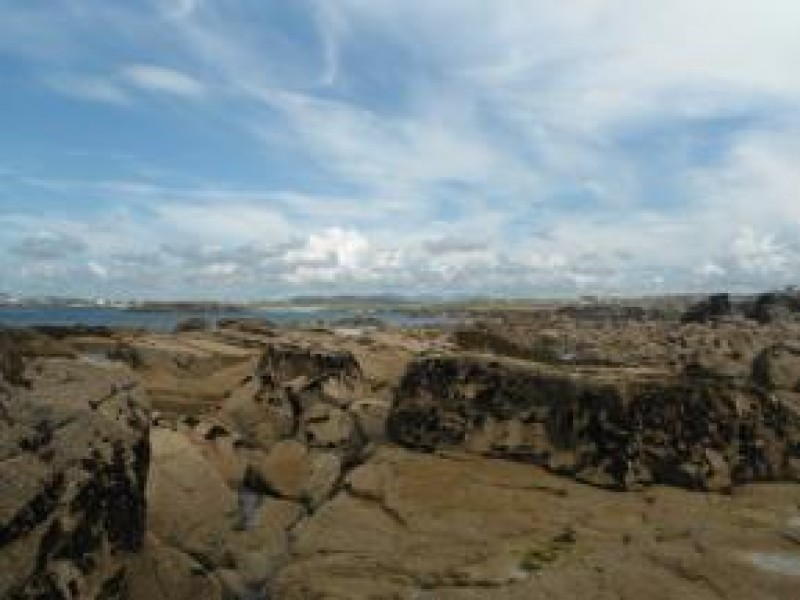 Carna Research Station, County Galway
The grant enabled me to travel to Connemara, Co. Galway and run an experiment in rock pools on a shore near the Carna Research Station. The experiment manipulated nutrient enrichment and the presence of an invasive sea weed (Sargassum muticum), with the aim of identifying the effects on biodiversity. Data collected from this experiment will give an important insight into the cumulative effects of multiple stressors and will form the final part of my PhD project.

During the week-long trip, a colleague and I travelled to the field site and set up the experiment. This included identifying suitable rock pools, measuring the diversity of the rock pools and quantifying the abundance of the invasive seaweed. We spent 6 – 7 hours on the shore each day, from around 6am until mid-afternoon. The early mornings and long hours were more than made up for by some lovely Irish spring sunshine. Highlights of the trip include the picturesque setting and the amazingly colourful algal diversity within the rock pools! Unfortunately, the well-known Irish rain did make an appearance on the last day, but it wouldn't be field work in Ireland without it! In addition, the trip provided an opportunity to liaise with the very welcoming staff and academics at Carna Research Station, NUI Galway. This has allowed me to forge links with members of the international marine research community.

My thanks go to the Challenger Society for facilitating a productive and rewarding trip.
Latest News
Challenger Medal Awarded 2020 and 2022
The Challenger Society is delighted to announce the delayed award of the 2020 Challenger Medal to Prof. Alberto Naveira Garabato, and of the 2022 Challenger Medal to Prof. Carol Robinson. We are absolutely delighted to honour these two fantastic scientists in this way, and look forward to hearing their Award Lectures at the forthcoming Challenger 150 meeting at the Natural History Museum. For more information about the Challenger Conference 2022 please click here.
---
International Digital Twins of the Ocean Summit #DITTO22
You are warmly invited to join on-line the International Digital Twins of the Ocean Summit #DITTO22, which takes place on Wednesday and Thursday the 4th and 5th of May.
---
Vacancy MASTS Marine Social Science Lead
MASTS has a vacancy for a 0.5FT Marine Social Science lead.
---