World Seabird Conference 2015: Cape Town
Gemma Clucas
Univeristy of Southampton and University of Oxford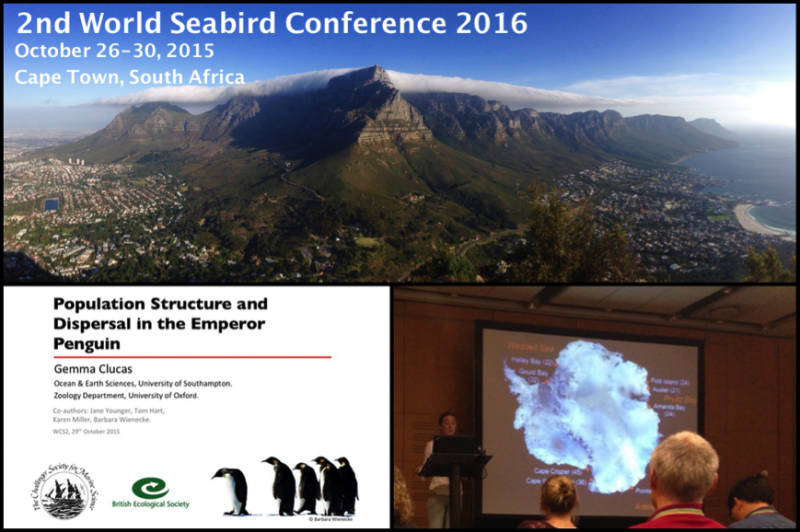 A Challenger Society Travel Award allowed me to attend the World Seabird Conference in Cape Town in October 2015. The conference is only held every five years, and so it brings together seabird ecologists from all over the world. This year, nearly 600 delegates from 42 countries attended the four-day conference, and a third of the delegates were students, which gave it a very open and accessible atmosphere. The conference organisers had also done a great job of mixing the right amount of presentations and poster sessions with a good number of fun social events, such as the speedy seabird social, which was like speed dating but for networking scientists. This meant that there were many great opportunities for meeting people, which will hopefully lead to future collaborations.

On the second-to-last day of the conference I presented some of my PhD research in a short presentation entitled, "Population Structure and Dispersal in Emperor Penguins." This included the results of a population genomic study I have been conducting on Emperor penguins from eight colonies around Antarctica.

After my talk I had some interesting discussions with population modelers who are trying to predict how climate change will affect emperor penguins using global climate change projections. If I can quantify exactly how much migration occurs in Emperor penguins using genomic techniques, then this could feed directly into population models to increase the accuracy of their predictions, which would be a really exciting outcome.

Overall the conference was a really worthwhile and interesting event for me to attend and I would like to thank the Challenger Society for their support.

Profile I am a 3rd year PhD student working on the population genetics of penguins around Antarctica. I am based partly at the University of Southampton and partly at the University of Oxford, working with Dr. Tom Hart and Dr. Gareth Dyke. My work focuses on identifying the processes that cause populations to become genetically differentiated from one another, and how this leads to speciation. Twitter Post Thanks @challengersoc for helping me get to #WSC2. Great fun and brilliant presenting my research to such a relevant audience.
Latest News
Challenger Medal Awarded 2020 and 2022
The Challenger Society is delighted to announce the delayed award of the 2020 Challenger Medal to Prof. Alberto Naveira Garabato, and of the 2022 Challenger Medal to Prof. Carol Robinson. We are absolutely delighted to honour these two fantastic scientists in this way, and look forward to hearing their Award Lectures at the forthcoming Challenger 150 meeting at the Natural History Museum. For more information about the Challenger Conference 2022 please click here.
---
International Digital Twins of the Ocean Summit #DITTO22
You are warmly invited to join on-line the International Digital Twins of the Ocean Summit #DITTO22, which takes place on Wednesday and Thursday the 4th and 5th of May.
---
Vacancy MASTS Marine Social Science Lead
MASTS has a vacancy for a 0.5FT Marine Social Science lead.
---