European Geosciences Union General Assembly
Dougal Lichtman
NOC/Bangor University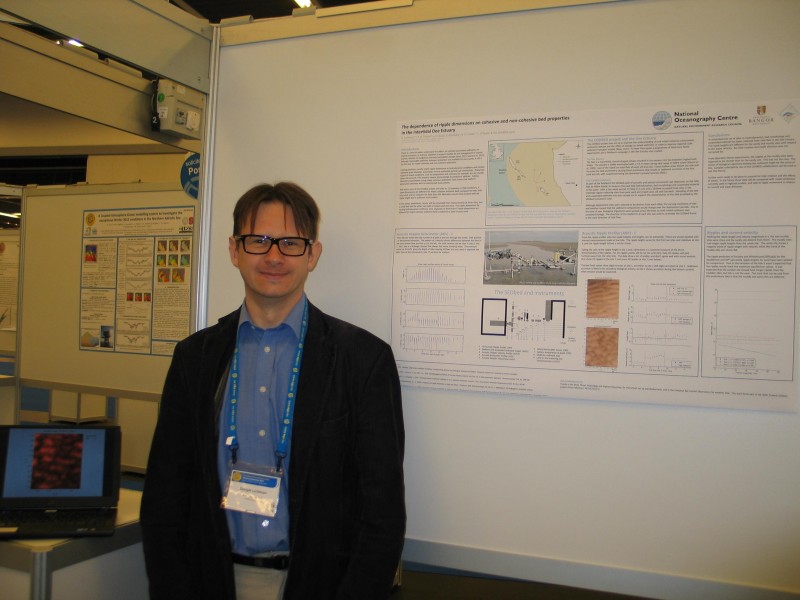 2014 European Geosciences Union General Assembly
From 27 April to 2 May the 2014 European Geosciences Union General Assembly was held in Vienna. This year's conference attracted 12,437 participants from 106 different countries, with 14,895 presentations in 568 sessions. Topics covered all aspects of the earth sciences and extended to include space, planetary and solar system science as well.

Presentations were divided into talks, posters and PICO sessions. The PICO sessions were a new concept to me and were meant to be combination of talk and poster. Each PICO presenter has two minutes to show slides to an audience, then later the slides were displayed on interactive screens so that smaller interested groups can talk with the authors. Also, the poster sessions allowed for more than just a static display, as the boards had tables next to them for the use of a laptop. This meant that I was able to display an animation of changing ripple bed morphology, to help catch people's eye, and bring up presentations to help answer more in depth questions.

The main session relevant to me that I attended was the 'Advances in Physical Estuarine Processes' and my poster, about ripple dimensions of muddy and sandy beds on tidal flats, formed part of this session. However, I also managed to attend sessions on: general estuarine processes, ocean circulation, informatics, coastal and shelf oceanography, operational oceanography, remote sensing and geosciences education. The wide range of material gave me new ideas on how to approach the data analysis for my own project and meeting other scientists from different institutions will hopefully lead to future collaboration. I am very grateful to the Challenger Society for supporting my attendance of this conference.
Latest News
Challenger Medal Awarded 2020 and 2022
The Challenger Society is delighted to announce the delayed award of the 2020 Challenger Medal to Prof. Alberto Naveira Garabato, and of the 2022 Challenger Medal to Prof. Carol Robinson. We are absolutely delighted to honour these two fantastic scientists in this way, and look forward to hearing their Award Lectures at the forthcoming Challenger 150 meeting at the Natural History Museum. For more information about the Challenger Conference 2022 please click here.
---
International Digital Twins of the Ocean Summit #DITTO22
You are warmly invited to join on-line the International Digital Twins of the Ocean Summit #DITTO22, which takes place on Wednesday and Thursday the 4th and 5th of May.
---
Vacancy MASTS Marine Social Science Lead
MASTS has a vacancy for a 0.5FT Marine Social Science lead.
---